Nebula Conference 2019
This year's Nebulas were in California a short distance from me. About an hour and a half drive. I got a newish car and I don't understand anything on it. I plugged in the GPS and it had me jumping on and off and on and off the freeways. And I realized the car had routed me perfectly around all the traffic. It's pretty amazing. The time is still wrong on it because I'm not sure where to set it. I've now had that car for about a month and I've finally used half a tank of gas. I simply don't drive a lot.
The Conference was a lot of fun and I got in some great discussions and learned a fair amount. I was booked to speak on one panel and we joked long and loud about how it was a useless panel. And once we got on it, I realized that it was absolutely perfectly designed. You had four people with four, diametrically opposed positions and backgrounds. What had started as a foolish romp because quite profound and heated. It was about audiobooks and narrators and technology and agents and royalties and such.
I drank a lot at the conference and ate more meat than I would like. I put on a couple pounds, which isn't even 1%, but if I went to a conference every week, I'd be a bloated alcoholic. But I'd be full of wisdom.
Managed to do a bit of writing in my hotel room. It's a bit clunky to synch my laptop and home PC and my note taking in between. But I'll sort it out.
Everyone was exceedingly nice and friendly and nerdy. I'm a bit of an asshole on forums. I'm one of the original Great Trolls of the Internet. When these young kids try and troll me in games or forums I'm like, I've been doing this before you were born. You got to do a lot better than that if you want to impress me.
William Gibson was made a Grandmaster of SFWA.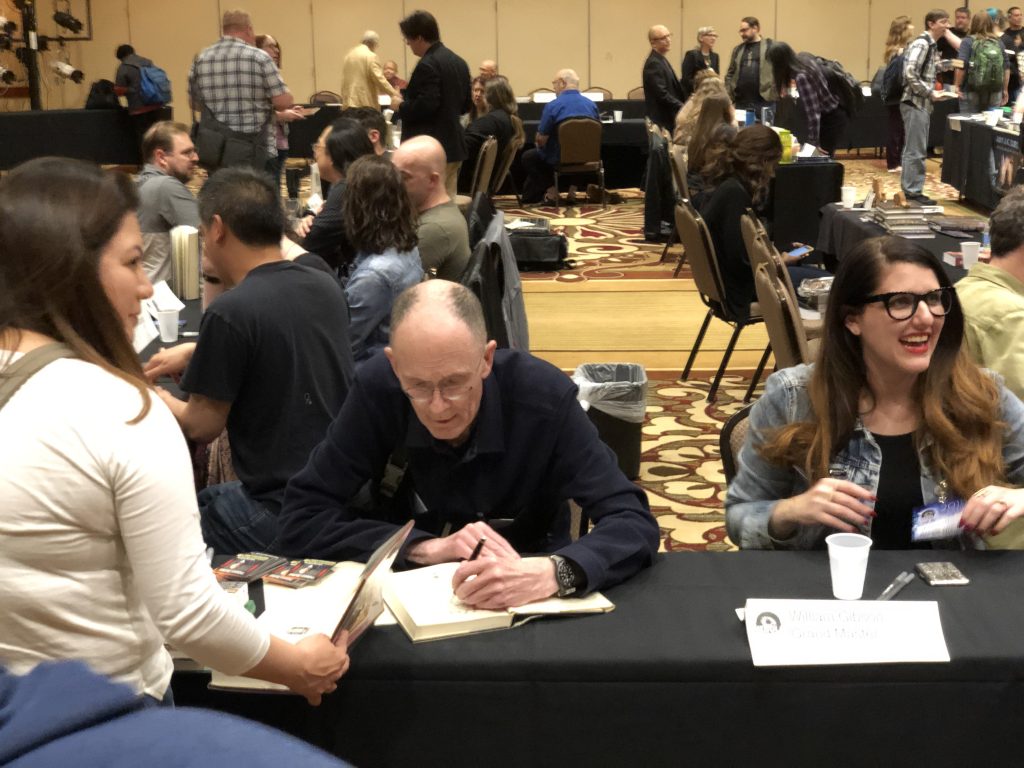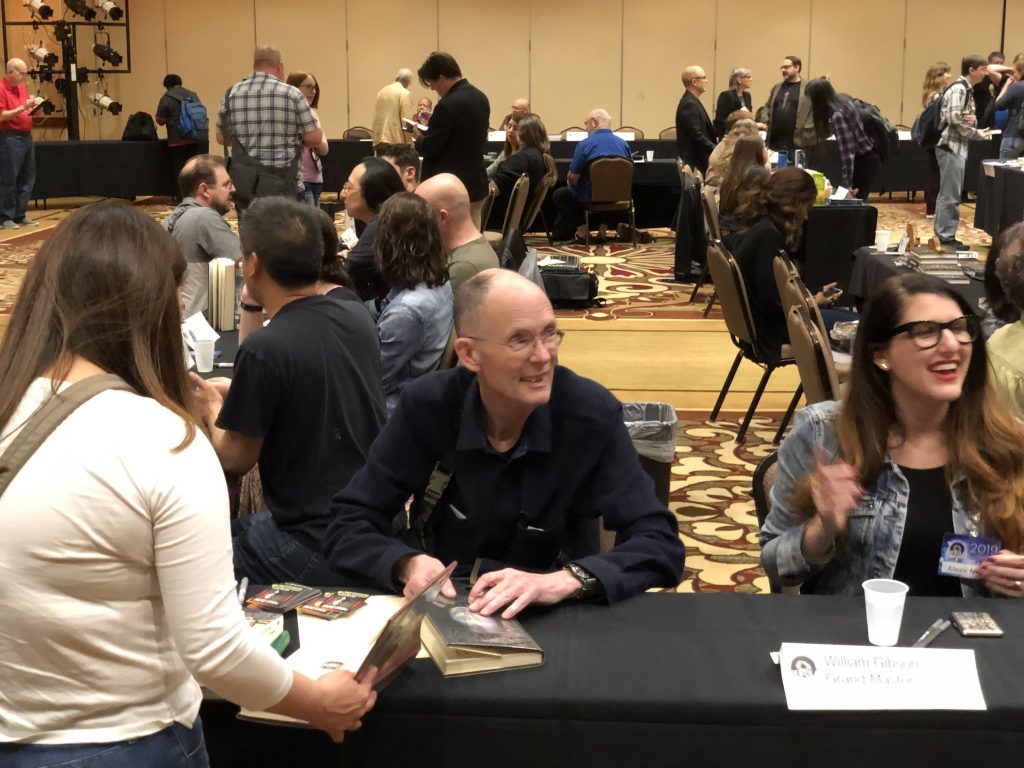 I also got to see John Scalzi.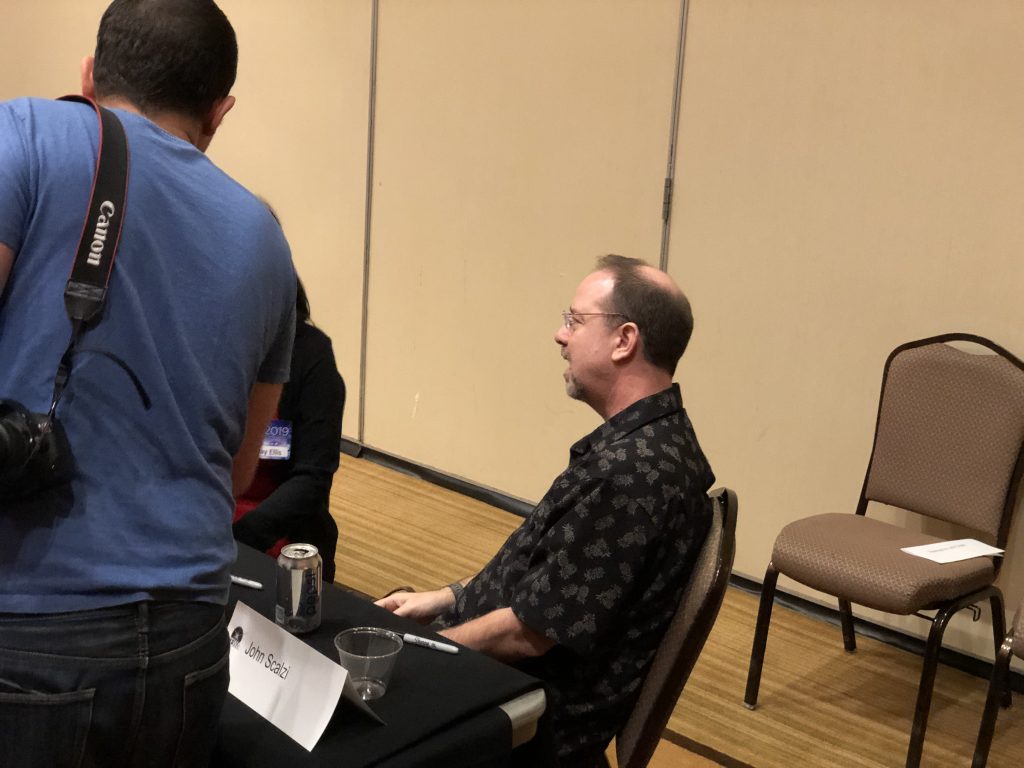 Grandmaster Larry Niven. He lives in California. I had kind of gushed at him a few years ago and embarrassed myself, but I found he's a bit hard of hearing, so I'm going to assume didn't hear me the last time. He was very nice and I found his mom lived in the same city I do now.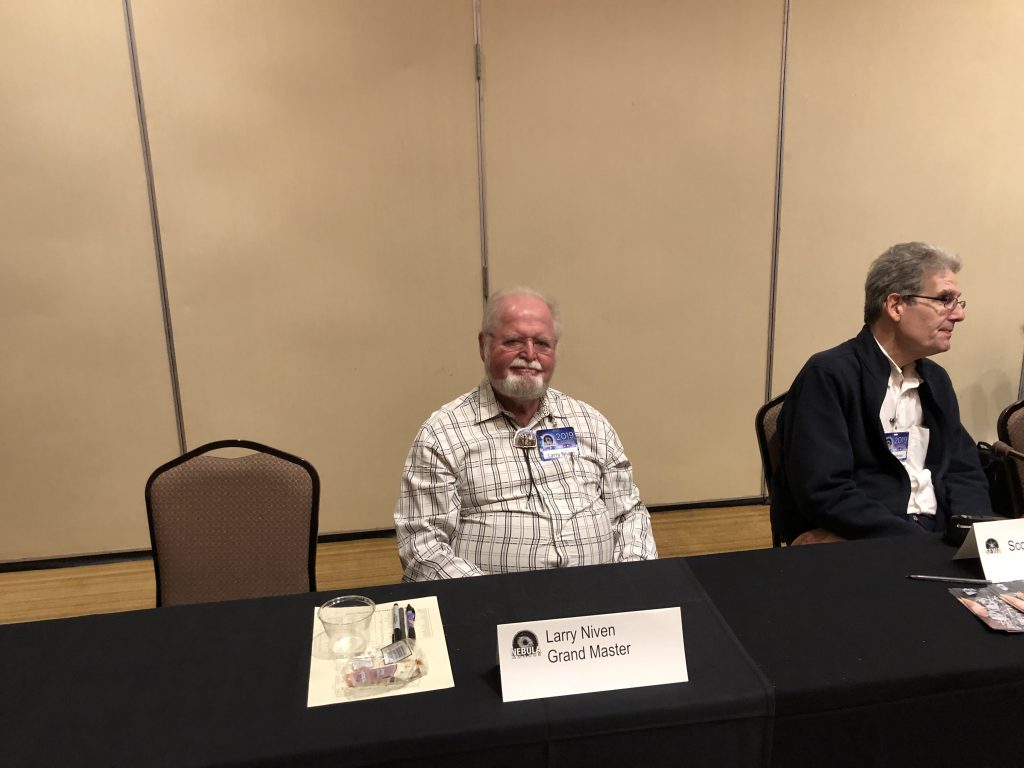 I also saw Rockne O'Bannon who wrote Alien Nation and Farscape as well as other things. I didn't get a picture, but I heard a lot of interesting things.
Talked a lot with Cat Rambo, the outgoing President of SFWA, who bought me breakfast and a drink. I meant to pay her back, but I was just too tired and ducked out before I got a chance.
A number of people I know were up for Nebulas, which is a great honor. I doubt I'll ever get nommed because I'm more of an entertainment writer. To each his/her/their own.
I have to say again, the Conference was a blast! Congratulations to all the Nebula winners and William Gibson, the new Grandmaster! I look forward to going again next year. The addition of game writing was awesome and I got to talk to a lot of game writers. Both board and computer and in between. Excellent conference and it was packed with writers of all skill levels and mediums.
Oh, since it's 2:25 AM and I already lost this post once...I'll just add it here. This is car culture in Los Angeles. This is my neighbor's daily driver four houses from me. He parks it like this because (I think) it scrapes if he drives down the very slight incline into his garage.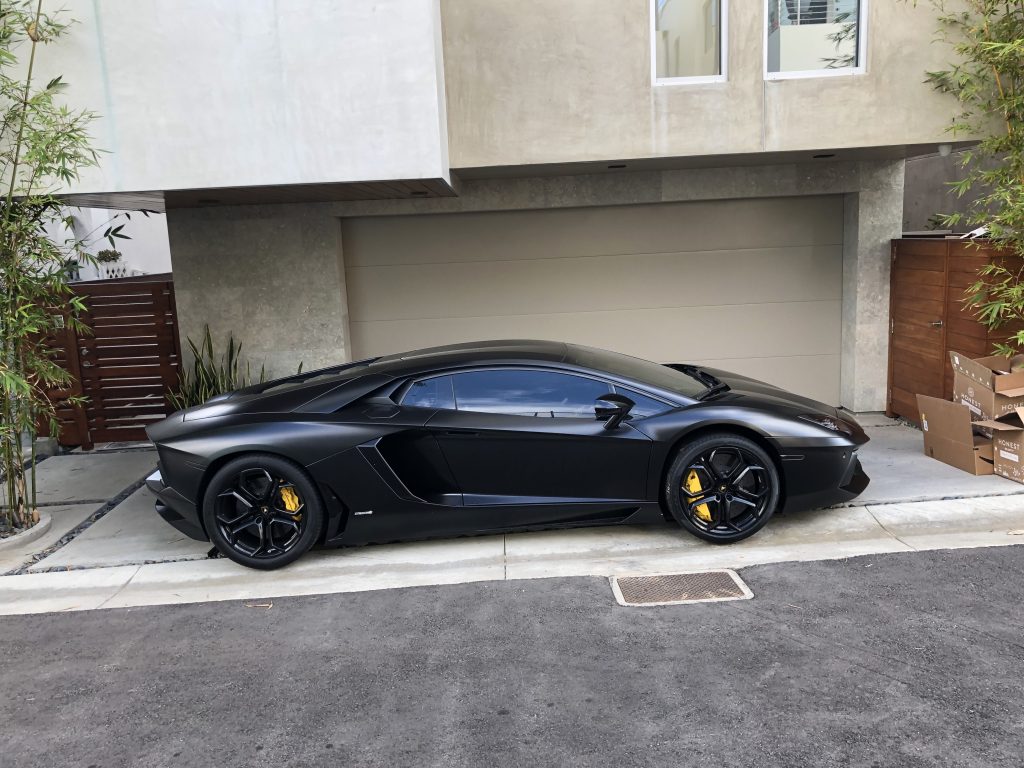 I have some of the Nebula Conference table settings(?) stored in my closet. So whoever is in charge remind me to bring them next year, cuz I'm sure I'll forget. If I can forget to pack shirts I can forget damn near anything.
Great times. Lots learned. Simple sentences.
OH, May 19th was my birthday. That's how forgetful I am. I honestly didn't remember.